Camping in Dapoli – Life is Good in The Woods
Make Time for The Outdoors
With the daily hustling of work, meeting, attending to the family needs, especially if you are from Mumbai travelling for work adds to the stress, whether you are driving in the traffic or travelling by train, it literally drains out your energy and yearns for a change of scenario for a couple of days. Being in the city, we are constantly looking at high-rise buildings, bright lights and a city that never sleeps.
There is a constant commotion happening here, there is an urgency to reach somewhere either mentally or physically, it has become our second nature.
But at times it is essential to take a step back and relax and spend some days away from the constant hustle. For people who want to just cut-off for a few days or weekend, they should take the scenic drive to Dapoli to detox and enjoy the best camping experience in Dapoli at Tent-O-Treat.
Talking about Tent-O-Treat, it is the best-kept secret of cozy and welcoming glamping experience in Dapoli. This glamping themed property in dapoli was established in the year 2018, is a perfect place to spend a quiet and relaxing weekend with friends and family alike.
There is so much to do in and around the property that you will forget how quickly the weekend will be over.
What Do You Mean by Glamping?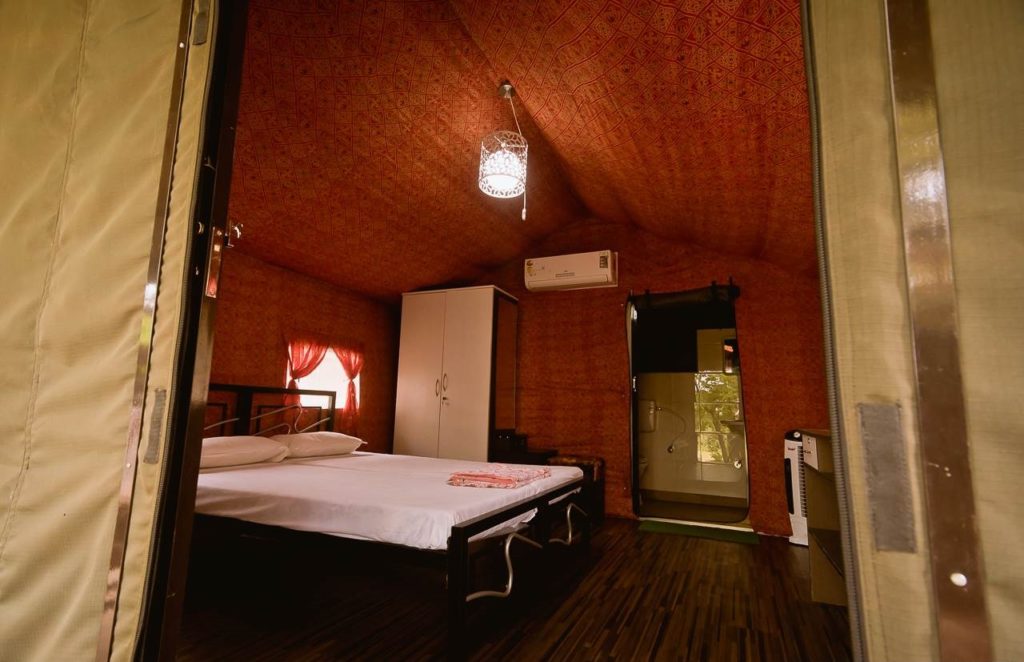 For the uninitiated, Glamping is the amalgamation of two words, namely "Glamorous" and "camping," i.e., glamorous camping.
The dictionary definition of glamping means "The activity of camping with some comforts and luxuries of home".
This concept of camping is where the beauty of nature meets luxury amenities. So what are you waiting for? BOOK your stay now.
Glamping is the non-traditional way of camping where you will experience everything in camping but with resort-style amenities.
You will be provided with a comfortable bed, blankets, air-conditioner and washroom facilities which you won't get if you are going for traditional camping.
Off lately, quite a few farm stays in Maharashtra is providing glamping experience to their visitors.
The Tent-O-Treat Experience
Where is this Place Located?
Tent-O-Treat is around 240 km and roughly 6-7-hour drive from Mumbai. The drive towards the property is picturesque, which itself relaxes you.
As you are reaching Tent-O-Treat, you will be welcomed by cool, clean air and beautiful farms and trees along the road.
The lush greenery of the fields and the trees are breathtaking as these are something which we all miss in our city life.
Slowly as you go further ahead, you will get the glimpse of the quiet and busy farm life of the residence of Dapoli, it is like entering a different world altogether where the pace of life is slow.
Comfortable Accommodation
Tent-O-Treat has five luxurious tents with all the modern amenities inside. Be it a clean and tidy room with a Wi-Fi connection or a comfortable bed to sleep-in amidst nature.
This boutique farm stay also has five premium villas if you are not a camping person. The property has also taken care of the accommodation of big groups in the form of the dormitory which comprises 22 beds and a master bedroom.
Whichever accommodation you prefer the warm and hospitable staff of Tent-O-Treat will ensure you have a pleasant and comfortable stay.
What to expect at Tent-O-Treat?
At Tent-O-Treat you will get a completely relaxed and comfortable time with your loved ones. Visitors who like to take the rustic feel of farm life or life being close to nature should stay at their Luxurious tent.
Being in the midst of nature, you can enjoy the beautiful sunrise in the morning from your tent and the mesmerizing sunset in the evening from this most beautiful homestay in dapoli at kolthare beach You can enjoy two of the most beautiful things about Mother Nature in the vicinity. 
There are great number of places to visit in the area around this camping experience in dapoli, which is full of history, culture, divinity and beauty.
For starters you should seek blessings from Shri Chandikadevi Temple, the temple is made out of single stone inside a natural cave or the ancient Shree Dev Koleshwar temple worshipping Lord Shiva.
People who love history should not miss visiting Panhalekaji Caves near the quaint village of Nante. There are 29 different man-made caves with glorious history attached to each of them. Visiting these caves would be a delightful experience for all the history buffs.
As mentioned earlier, Kolthare Beach is mere few minutes away from this beautiful camping site in Dapoli. The best part about this pristine beach is that you will get privacy to enjoy it, as it is a non-commercial beach it is not crowded as compared to other beaches in Maharashtra.
The beach also boasts being the cleanest one in the country, so all the more reason to visit and take into the beauty of the beach.
You can take a ferry ride here, and there is a likelihood that dolphins would be giving you company. In fact, if you go to the beach early in the morning, you might be able to catch a glimpse of dolphins hopping out of the water.
If all of the above doesn't allure to you, then you can just sit back and relax at the luxurious tents of tent-o-treat.
You are staying in a place which is surrounded by an abundance of natural beauty, there are different types of trees all over the property where you might find many migratory birds, as Dapoli is known to be home for them.
Apart from this, Tent-O-Treat has a vast sports complex that is spread across 35000 sq. ft. with all types of outdoor and indoor sports.
You can enjoy a game of badminton, cricket or basketball here and for others there are numerous board games to choose from to play.
Tent-O-Treat is one of the places where you will guarantee the feel of the serene and calm tent stay. Staying in such a captivating place coupled with delicious food will definitely give you a chance to relax and rejuvenate that you forget to do while hustling in the city.
Planning your next weekend trip to Dapoli? Then it time to unwind yourself with mother nature and pamper your senses like never before at the best camping experience in Dapoli at Tent-o- treat. Book your stay now.